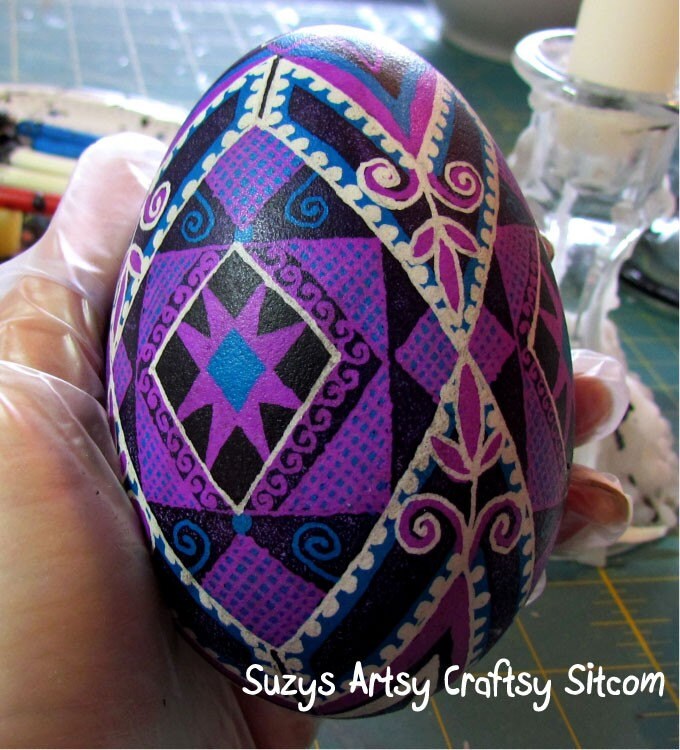 It is always exciting to open your email to find a note that says, "You've been featured!" And as a thank you, I'd like to share the Blog featuring me in my newsletter as well. Suzy Myer's Blog is Called
Suzy's Artsy-Craftsy Sitcom.
She is a fellow Etsy shop owner and sells the most beautiful Ukrainian Eggs
there
like the one pictured.
June 3 when I checked my email, I got a wonderful surprise - a note on Etsy that I was being featured. Her article the next day was on Millefiori - which is the basic technique behind most of my polymer art. Millefiori means "thousand flowers" and is a term originally associated with italian glass which was shaped into rods or 'canes' to be used in bowls, beads, paperweights, etc. Millefiori is also the term used by polymer artists to describe the wonderful canes the creature that decorate their art. Suzy featured several millefiori artisans - glass & polymer - including myself and my lovely perfume pen made from my rainbow pansy cane. You can check out the entire blog post including the other wonderful featured artists at
http://suzyssitcom.com
.